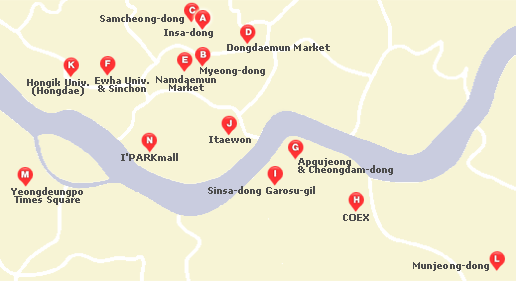 Budget Shopping: Namdaemun Market (Great South Gate)
Address

Myeong-dong next to Hoehyeon station

Transport

line 4 to Hoehyeon, Exit 5

Website
Phone
Hours

hours vary depending on stall/shop; some are 24hr

You could spend all day in this awesome night-and-day market and not see it at all. Each section has hundreds of stalls. The market specialises in cheaper-range clothing and accessories for all ages and styles, but you can find anything under the sun here – from food and flowers to spectacles and seaweed. The seaweed may be natural or factory-made, and these days can be flavoured with wasabi, kimchi, green tea or even chocolate. Different sections of the market have different opening hours – wholesalers are open all night and many shops open on Sunday.
Alpha
has two floors of toys and two floors of stationery.
Samho
has a jaw-dropping amount of fashion jewellery spread over two shopping sections, with some of it made on the premises.
Mesa Family Fashion Mall
, the market's first high-rise mall, has over 1000 shops on 16 floors. For food, Noodle Alley has a dozen stalls selling
sujebi
(dough and shellfish soup), homemade
kalguksu
noodles and
bibimbap
(mixed rice, meat and vegetables) for around W4000. Restaurant Alley has a huge range of Korean food – all with plastic replicas outside to make choosing easy. A very popular
wangmandu stall
sells these large dumplings freshly made at a bargain price, while a little further on
Jungang Jokbal
sells great-tasting pork hocks (a W15,000 plateful is heaps for two people). It comes with vegetable soup, lettuce wraps, a salad and side dishes.
In complete contrast to the raucous hustle and bustle of the market, wrap yourself in luxury inside
Shinsegae Department Store
. Down in the basement is the opulent supermarket (the cakes are works of art) with one food court, while another is up on the 11th floor together with Starbucks and a garden with seats to relax in after footslogging around the market below. In the Hoehyeon underground arcade, shops selling secondhand LPs, CDs, cameras, stamps and coins are mixed in with boutiques, money-changers and shops selling bargain spectacles.
Mid-Scale Shopping: Dongdaemun Market (Great East Gate)
Address
Transport

line 1 or 4 to Dongdaemun, Exit 5 or 7, or line 2, 4 or 5 to Dongdaemun Stadium, Exit 1

Phone
Where to begin in this colossal market? Many shoppers start at Doota Mall, a leading fashion icon full to the brim with domestic brands. Besides floors dedicated to adult clothing, it has a floor of accessory shops, a bag and shoes floor, a children's floor, a brand-name floor and a food-court floor. Migliore Mall is another fashion mall next door. Others in this area also have cinemas and saunas. The multistorey Dongdaemun Shopping Complex has an unbelievable range of fabrics and trimmings of every conceivable kind. Other parts of the market specialise in shoes, pets (some are shockingly overcrowded in their cages) and street stalls. Soccer shirts are in the Euljiro underground arcade. The other market buildings sell all types of clothing and accessories, both retail and wholesale. Some shops have prices, but many don't, so bargaining is the name of the game. Russian and Central Asian companies import clothing from Dongdaemun Market and have offices and restaurants nearby.
Mid to High-end Shopping: Myeongdong



Myeongdong is all about shopping! From the towering super stores of Migliore, Lotte Department Store, Avatar and High Harriet to the cozy, mom-and-pop shops lining the sidestreets, Myeong-dong has something for everyone. Whether the search is for accessories, athletic wear, shoes, boots or a number of other mid-to-high priced items, you'll find it all here. With the main streets boasting larger, well-known stores, many of the better bargains are to be found at some of the discount stores that require a little walking to get to. All this selection of styles and sizes, coupled with the freedom of strolling in the open-air make Myeong-dong a shopping destination not to be missed and an adventure sure to be remembered.
Located in the center of the city with streets sprouting up new stores at an alarming rate, shopping is very convenient. Everything is within walking distance and there is an endless list of restaurants and cafes for hungry shoppers to escape to for a break.

Indeed, Seoul has many other shopping districts for visitors, namely, Insa-dong, Namdaemun and Dongdaemun. But whereas Namdaemun and Dongdaemun offer a large selection of discount outlets selling products at low prices, one will be hard-pressed to find the kind of variety that exists in Myeong-dong. Insa-dong is more of a traditional area, full of historic significance, galleries and higher end antique shops catering to visitors looking to come away with wooden carvings, traditional tea sets, or beautiful artwork from local artists.
If it's variety that you're after, there's no better place to shop than Myeong-dong where you'll find everything from internationally-recognized name brands to unique items with lots of personality. Keep reading for a newcomer's guide to the Myeong-dong shopping district.
International Brands at Myeong-dong
There are numerous globally-recognized clothing brands to be found in the area—everything from athletic wear to casual and formal apparel. Prices here are mid-range, a little higher than some of the lesser-known shops.
PUMA
Those in the market for trendy athletic wear should head straight to Puma. The Myeong-dong location is impressive, boasting a large layout and a wide selection of the company's product line. You'll find everything from gym bags and track suits to footwear and jackets.

Tel: +82-2-777-3350
Store Hours: 11am - 9:30pm
Address: Seoul –si, Jung-gu, Chungmuro 2-ga, 66-19 (Myeongdong Station, Subway Line 4, Exit 7)
Website:
www.puma.com
American Apparel
Another brand that has remained rather popular in Korea is American Apparel. The clothing line focuses primarily on comfort and practicality and is a good fit for those with slightly more conservative tastes. Products are known for their good quality and are also popular among those who enjoy working out.

Tel: +82-2-779-2660
Store Hours: 11am - 10pm
Address: Seoul –si, Jung-gu, Myeongdong 2-ga, 52-8 (Myeongdong Station, Subway Line 4, Exit 6)
Website:
www.americanapparel.net
GAP
Although GAP doesn't need much of an introduction given its far-reaching global appeal, this particular location is special because it was the first GAP store ever introduced in Korea. Although prices here are a little more expensive than, say, Giordano, the quality is exceptionally good and the clothing line is very diverse. Shoppers will find everything from casual wear to formal wear. The store is a favorite for those looking for bigger clothing sizes.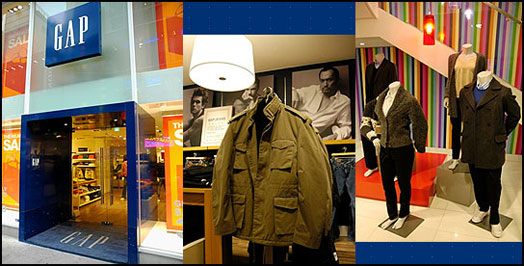 Tel: +82-2-778-3600
Store Hours: 11am - 10pm
Address: Seoul –si, Jung-gu, Chungmuro 1-ga, 24-4 (Myeongdong Station, Subway Line 4, Exit 6) Website:
www.gap.com
Zara
At Myeongdong, there is a famous Spanish SPA (Specialty store retailer of Private label Apparel) call 'ZARA.' Just like any other SPA brand, ZARA provides a wide selection of items at affordable prices; new products are stocked twice a week. Prices are around 110%~120% of what you would pay in Europe, but the brand offers slightly larger sizes and a wide array of product lines that range from basic and conservative to vivid and trendy.
Store Hours: Lotte Young Plaza: 11:30 - 21:30 / Noon Square: 11:00 - 22:00
Address: Lotte Young Plaza: 7-minute walk from Euljiro 1-ga Station (Subway Line 2) Exit 7
Noon Square: 5-minute walk from Euljiro 1-ga Station (Subway Line 2) Exit 6
Website:
http://www.zara.com
H&M
The first local flagship store of H&M, a famous Swedish SPA brand, the 4-story building (2600㎡) in Myeong-dong has become an incredibly popular shopping spot for internationals and Koreans alike. The 1st and 2nd floors offer a plethora of women's clothing, the 3rd floor is exclusively for menswear, and the 4th floor is dedicated to infants' and children's apparel. Befitting its reputation as a quick-cycling brand, H&M introduces new lines of products every week. The brand collaborates with famous designers such as Sonia Rykiel to add to its products' artistic and luxurious vibe.
Store Hours: 11:00 - 22:00 / Open all year round
Address: 5-minute walk from Euljiro Ipgu Station (Subway Line) Exit 6
Website:
http://www.hm.com
Myeong-dong Department Stores & Discount Outlets
Towering high above the streets below are several large department stores that sell everything from discounted items (Migliore and Hi Harriet) to tax-free and luxury brand products (Lotte's flagship Department Store and Avenuel).
Lotte Department Store & Avenuel
Lotte's flagship Department Store is situated snugly in Myeong-dong. Aside from boasting all the global luxury brand names, one can also find several duty free shops here as well. Avenuel is similar in nature and carries a fine selection of upper-end, higher priced items.

Tel: +82-2-771-2500
Store Hours: 11am - 10pm
Address: Directly connected to Euljiro-1ga Subway Station (Subway Line 2)
Website:
www.lotteshopping.com
Migliore & Noon Square
Both Migliore and Noon Square are huge discount outlets where shoppers can find numerous styles of clothing at bargain prices. The outlets have everything from accessories to boots and shoes.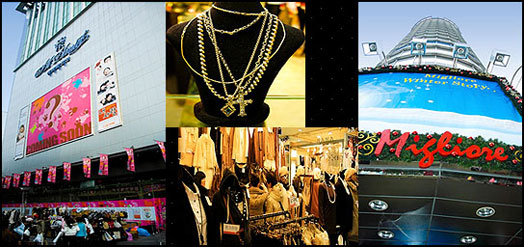 Tel: +82-2-2124-0001
Store Hours: 11am - 11:30pm / Closed on Mondays
Address: Directly outside Myeongdong Station (Subway Line 4) Exit 5
Website:
www.migliore.co.kr
Noon Square
As an iconic landmark of Myeongdong, Noon Square is a one-stop shopping center full of fashion, food, and entertainment. The center houses the H&M flagship store as well as the famous Spanish brand shops ZARA and Mango. Here, a wide variety of brands, both local and international, are available at affordable prices.
Store Hours: 11:00 - 22:00/ Open all year round
Address: 5-minute walk from Euljiro Ipgu Station (Subway Line 2) Exit 6
Website:
http://www.noonsquare.co.kr
Street Vendors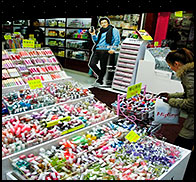 Dotting the dozens of sidestreets are countless individual vendors selling virtually everything. Some bargaining may be done here making prices along these walkways the lowest in the area. Anyone wishing to grab the best deals or simply experience the traditional market scene should definitely check it out. Purses, cell phone accessories, scarves, hats, and shoes are just some of the things you will find as you stroll around. Be sure to keep in mind that items purchased at blowout or discount sales are often non-returnable and non-refundable.

Smaller Shops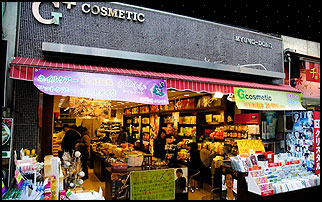 Part of the fun of shopping in Myeong-dong is venturing out to look at all the little shops that are scattered throughout the many sidestreets. One should definitely walk along these lesser known areas to find the best deals and most unique purchases.
Shopping Tips
● Tourist Information Centers in Myeong-dong
There are two tourist information centers in Myeong-dong. The first can be found just outside the entrance to Myeong-dong's underground shopping center, directly across from the Lotte Department Store. The second is a short 500 meters away along one of Myeong-dong's main shopping streets (Jungangno). Both locations supply maps and various information regarding events and sites in and around Seoul.